Altice France-SFR supports the POLE 3D school and presents a check for €4,000 for the apprenticeship tax
Salvatore Tuttolomondo, Hauts-de-France Regional Delegate for Altice France-SFR, presents a check for €4,000 for the apprenticeship tax to Jérémy Theng, Director of Pôle 3D. This endowment will be used for the establishment's digital transformation plan, including the acquisition of new equipment for virtual reality research activities, and investment in new graphic tablets for the educational needs of its students.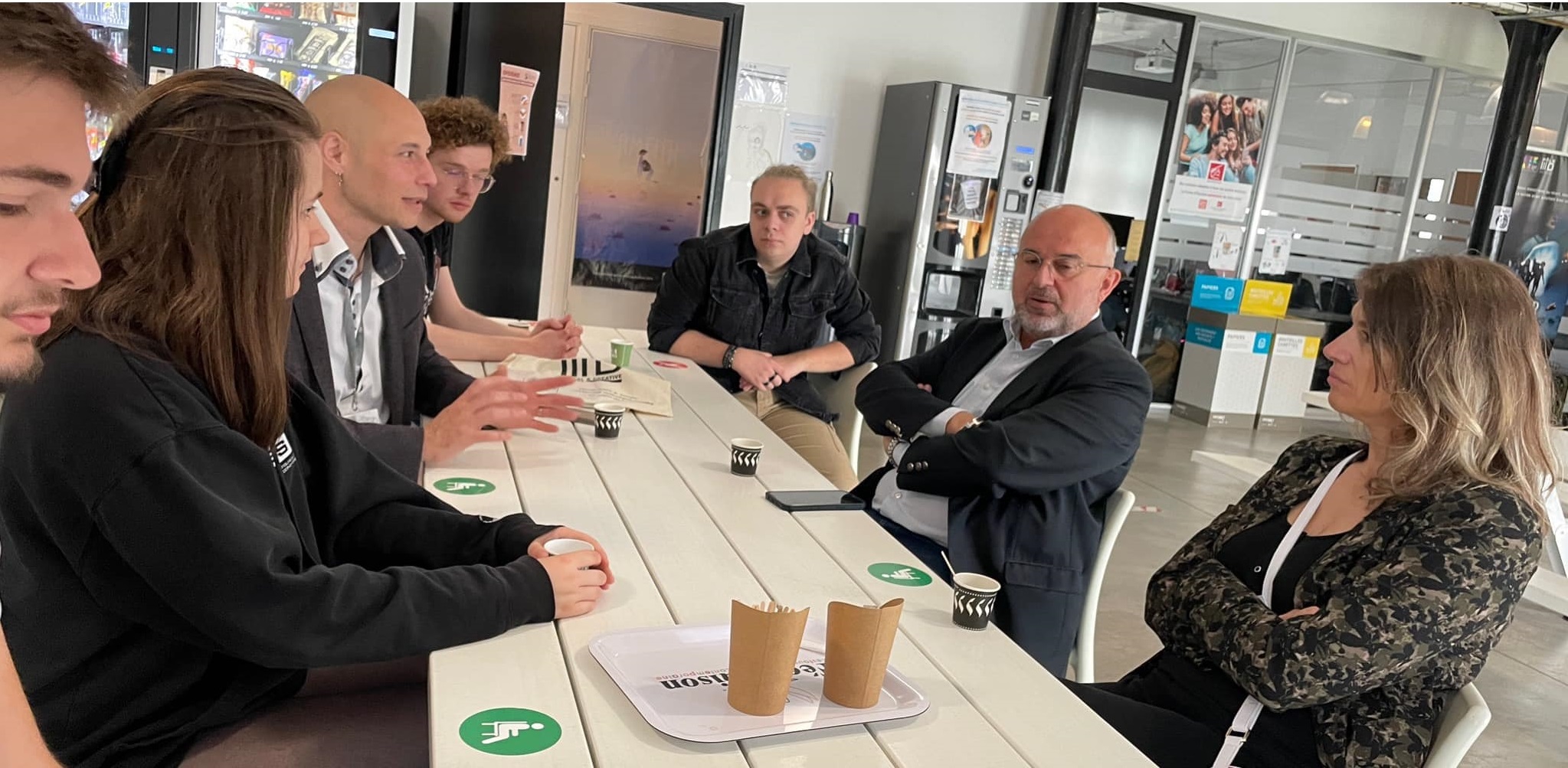 To support its transformation project, Altice France-SFR relies on an ambitious learning policy. Each year, the Group welcomes more than 800 students from partner schools in qualified professions in the digital field: Big data (Data Analyst, Data Scientist, etc.), Cloud, Security of the information, Web Development and Architecture, Digital Marketing, Commerce, Finance… Already above its legal obligations, the group is also stepping up its learning policy with 1,000 contracts per year, thus supporting the dynamics of Plan "1 young, 1 solution" of the Government. At a time when young people are struggling to find an employer, Altice France-SFR wants to give a boost to the beginnings of a career and will support the investment in the future that constitutes apprenticeship.
In Hauts-de-France, the group wanted to support Le Pôle 3D, which offers a complete course to young people enabling them to acquire solid theoretical and practical bases to prepare them for careers in 2D and 3D animation, games video and illustration & digital graphics. The school is anchored in the heart of the dynamics of exchanges thanks to its campus based in Plaine Images, the largest ecosystem dedicated to the creative industries in Europe.
About Altice France – alticefrance.com
Altice France is the leading player in the convergence between telecoms and media in France. Through SFR, 2nd French operator, Altice France is a key player in telecoms serving 26 million customers. With a fiber optic network (FTTH / FTTB) of more than 26 million eligible sockets, SFR has launched 5G in France and also covers 99.7% of the population in 4G. SFR has major positions across the entire market, whether with the general public, businesses, local authorities or operators. Altice France is also a leading media group around iconic brands such as BFM and RMC.
In 2021, Altice France generated revenue of €11.1 billion.
To follow the group's news on Twitter: @AlticeFrance
Press contact: Stephanie Claudel – stephanie.claudel@sfr.com
About PÔLE 3D school, The great school of creative industries
Pôle 3D School trains people in 2D animation, 3D animation, video games, but also illustration & digital graphics. Pôle 3D actively participates in the Plaine Images ecosystem in Roubaix, opening up a vast network companies and studios. Each year, more than 200 nominations reward the creations of its students. Founded in 2003, Pôle 3D, which has integrated the Catholic University of Lille, issues university degrees (bachelor's and master's) and brings together more than 700 graduates working in 15 countries. Pôle 3D has obtained the EESPIG labels (Establishment of Education Private Superior of General Interest) and HappyAtSchool®, thus appearing among the specialized schools in France offering the best student experience.
Press contact : Emmanuelle Gore – emmanuelle.gore@pole3d.com