 CROUS SCHOLARSHIP
Pôle 3D provides you with the necessary information and the steps to follow in order to apply for a CROUS grant with complete peace of mind. APPLY FOR A CROUS SCHOLARSHIP
The Student Social File (DSE) is the unique procedure for applying for a scholarship and applying for accommodation in a university residence. The Student Social File must be established each year. Whether you are a student or future student, you must apply online from January 15th to May 15th 2020 (deadline), for the next academic year.
Warning ! It is essential to complete an DSE application as soon as possible! Do not wait for the results of the baccalaureat or your exams, or have the final answer of your Parcoursup assignments. You may make changes to your file.
ELIGIBLE COURSES:
The Designer Licence option 2D Animation, 3D Animation or Video Games
The Master Digital Director option 2D Animation or 3D Animation
The Tremplin preparatory year is eligible for the scholarship in the same way as the 1st year of a licence degree
CHOOSE 3D POLE IN YOUR WISHES:
On the "My study wishes" page To find us in the list of establishments:
In the Curriculum section, choose "Other Diplomas",
In the Year section select your year of study for 2022-2023,
In the Establishment section, select Pôle 3D Roubaix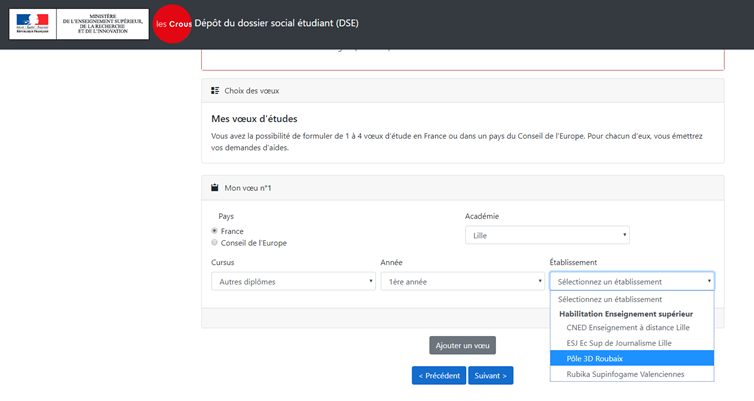 ATTENTION: in the section "Curriculum", choose "Other degrees": there are 2, the first (23rd position) for years 1 to 3, the second (last position in the list) for years 4 to 5 .