 STUDENT LIFE
Find on this page all the information to prepare your student life near the campus: Housing, eating, find tips in Roubaix or know more about our sustainable development program ! REQUEST A SCHOLARSHIP WITH THE CROUS
The Student Social File (DSE) is the unique procedure for applying for a scholarship and applying for accommodation in a university residence. The Student Social File must be established each year. Whether you are a student or future student, you must apply online from January 15th to May 15th 2020 (deadline), for the next academic year.
Warning ! It is essential to complete an DSE application as soon as possible! Do not wait for the results of the baccalaureate or your exams, or have the final answer of your Parcoursup assignments. You may make changes to your file.
ELIGIBLE COURSES:
The Designer License option Video Games, 2D Animation, 3D Animation
The Bachelor Manga Director
The Master Digital Director
Preparatory classes do not enter the courses eligible by the CROUS.
CHOOSE 3D POLE IN YOUR WISHES:
On the "My study wishes" page To find us in the list of establishments:
In the Curriculum section, choose "Other Diplomas",
In the Year section select your year of study for 2020-2021,
In the Establishment section, select Pôle 3D Roubaix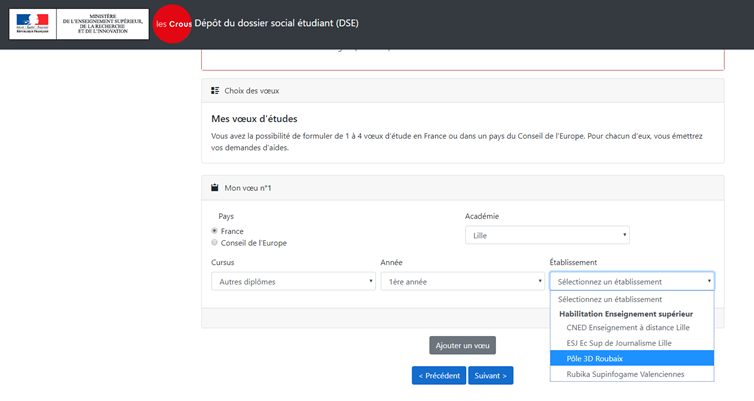 ATTENTION: in the section "Curriculum", choose "Other degrees": there are 2, the first (23rd position) for years 1 to 3, the second (last position in the list) for years 4 to 5 .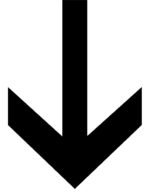 STUDENT LIFE AND CAMPUS CONTRIBUTION
The law of March 8, 2018, on the orientation and success of students has provided for the establishment of a contribution "intended to promote the reception and support social, health, cultural and sports students and to reinforce prevention and health education actions carried out in
their intention ".
Except in cases of exemption provided by law, each student must pay the student and campus student contribution in the amount of € 91.
At the end of the process of acquittal of the CVEC, a certificate will be transmitted to you. This certificate must be sent to POLE 3D via your personal space on myp3d.com before the start of the school year. THE GREEN FACTORY
Sustainable development is a major issue for all generations and young people are increasingly sensitive. It is from this common will of the supervising team and of voluntary and invested students that the Green Factory was born in 2018. During their schooling at Pôle 3D, the students are brought to work in "factories" in order to design , in a framed way, a common project such as the realization of a video game or an animated film. In the same way, the Green Factory is a team dedicated to the implementation of sustainable development actions in the school. Made up of a group of students and supervisors, the projects under discussion focus on zero waste, the installation of a shared library and many other projects.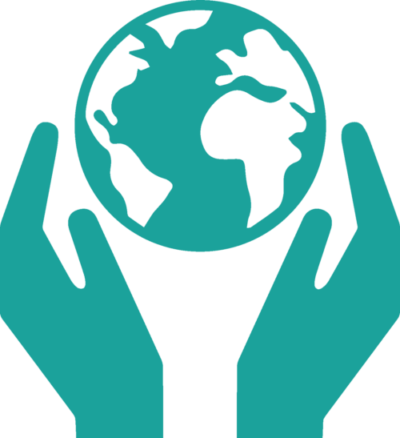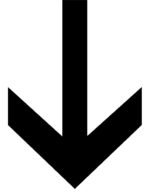 GOOD PLANS IN ROUBAIX
The city of Roubaix offers you a guide with a wealth of information to help you in all your efforts, do not hesitate to consult it!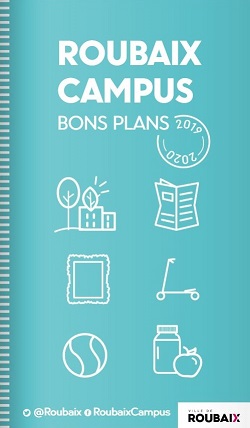 University restaurants
It is possible to access the university restaurants of the Lille metropolis, to know them, do not hesitate to consult the website of the CROUS.
CLASS'CROUS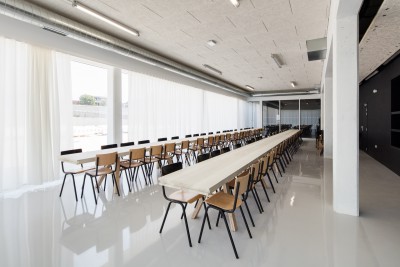 Location
Located in résidence 217
Schedule
11h00 – 14h00
Access
Métro Gare Jean Lebas
Practical
 Accessible aux personnes à mobilité réduite
Payment method
 Carte-bleue
 IZLY
IMMD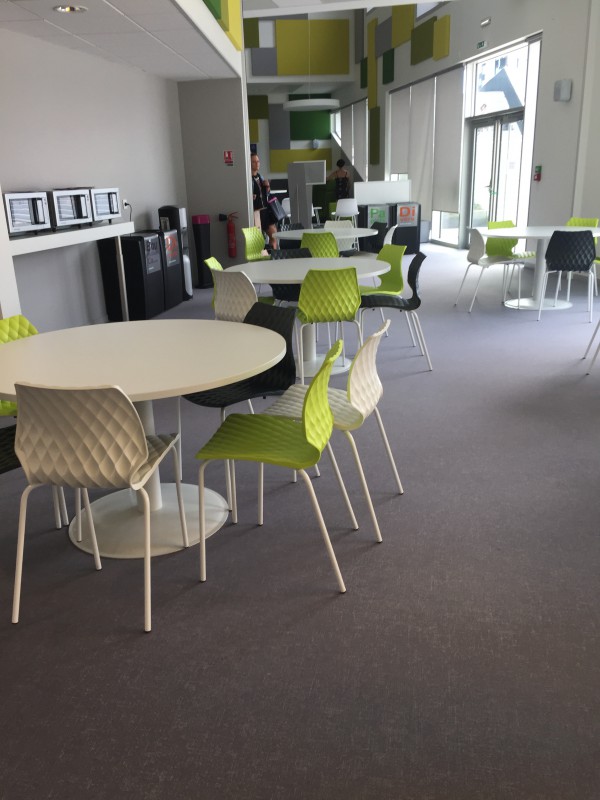 Location
located in IMMD-LEA building
Schedule
08h30 – 15h00
Access
metro Gare Jean Lebas
Practical
 Accessible aux personnes à mobilité réduite
Payment method
Carte-bleue
IZLY
Outside Lunch
There are many fast food options around each campus with rates negotiated by the student office POLE 3D.
CAMPUS PLAINE IMAGE
Ankama Restaurant & Salad Bar
62 Boulevard d'Armentières – 59100 Roubaix
Pause Sandwich
74 Boulevard d'Armentières – 59100 Roubaix
Le Point IT
99A Boulevard Constatin Descat – Au RDC du Batiment La Chaufferie, 59200, 59200, 59200 Tourcoing
Soja
124 Boulevard Constatin Descat – 59200 Tourcoing
La Bobine
12 Rue Edgar Quinet – 59200 Tourcoing
As well as many different Food Trucks every day!
CAMPUS EUROTELEPORT
Flam's
37 bd Gén Leclerc – 59100 ROUBAIX
Subway
28 pl Liberté – 59100 ROUBAIX
O'Tacos
40 Grande Rue, 40 44 Clos De L'epicentre – 59100 ROUBAIX
Mc PIE
Mc Arthur Glen, 44 Rue Mail de Lannoy – 59100 Roubaix
Joe's
Mc Arthur Glen, 44 Rue Mail de Lannoy – 59100 Roubaix
Belga Queen
Mc Arthur Glen, 44 Rue Mail de Lannoy – 59100 Roubaix
Many bakeries, breweries and other addresses are nearby. Feel free to consult the school's billboards and discover the rates negotiated by your student office!
K'Fet
On site at the school, it is possible to come with his meal. Fridges and microwaves are at your disposal in the K'Fet of each campus.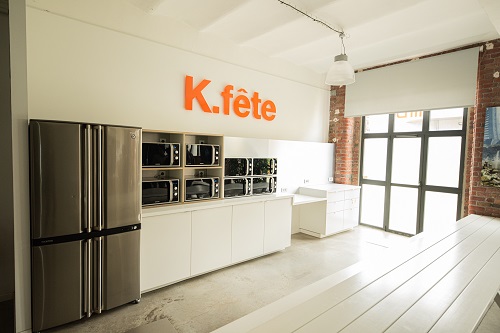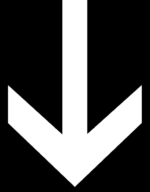 PURCHASE OF EQUIPMENT
Rates are negotiated for the purchase of specialized equipment, here is the list of our partners: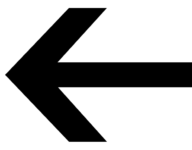 STUDENT LOANS AND BANKING SERVICES
Our partner, La Caisse d'Epargne, supports you in the realization of your projects!